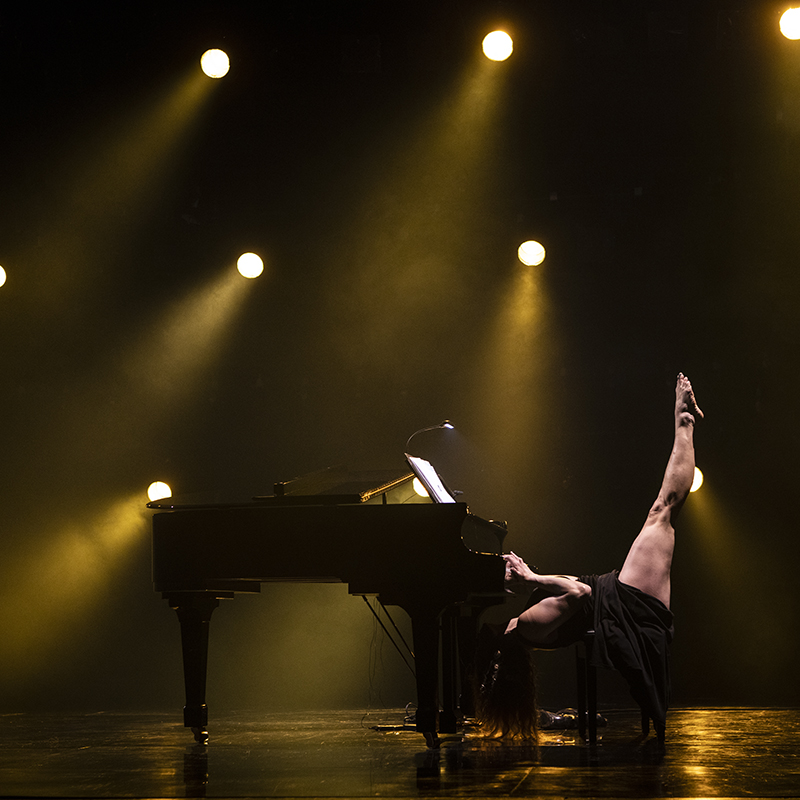 KONCERT
EN
For quite some time, the dancer and choreographer Leja Jurišić has been developing her interest in the arts that in their time transformed the field of art, those that had cut into it, stirred it up, and redefined it. This impulse and focus can be observed in her creative work; she collaborates with artists from various fields to create pieces in which she can cross the conventions and boundaries of a dance performance. As she has repeatedly pointed out in interviews, a perspective which would express the 'I cannot, I do not know, I will not' does not exist in her artistic processes. In the new piece entitled CONCERT, the horizon of the leap from the dance arts is even bolder, even bigger. CONCERT has been created in close collaboration with set designer Petra Veber. The performance programme finds its source material in literary works by Futurists and Dadaists, as well as original compositions by Leja Jurišić.
Programme: 1. I hear you, 2. Spiral, 3. I put a stone on my foot, 4. There is no time to lose (China), 5. Solo body piano, 6. The mothers of invention, 7. Triangle, 8. Second movement, Ursonata, 9. But a dog, 10. Canzione di Maggia, 11. Divine advantage, 12. The chair and I, 13. I do not allow!, 14. The sky prefers the night, 15. RADI OS, Book III (Paradise), 16. Poème a crier à danser (chant 1), 17. The Radical Characters of Verbs and Nouns (to be), 18. So it is written
SI
Plesalka in koreografinja Leja Jurišić se že dlje časa zanima za umetnosti, ki so v svojem času pretresle polje umetnosti, vanj zarezale, ga razburkale in ga na novo definirale. Ta interesni poriv je viden tudi v njenem delu; avtorica pogosto sodeluje z umetniki z različnih področjih, skupaj z njimi pa skuša vedno znova prestopiti konvencije in meje plesnih predstav. Kot je večkrat poudarila v intervjujih: drža, ki bi izrekala 'ne morem, ne znam, ne bom', zanjo v umetniških procesih ne obstaja. V novem delu, ki nosi naslov KONCERT, je horizont še drznešji, še večji. KONCERT je nastal v tesnem sodelovanju s scenografko Petro Veber. Program predstave sestavljajo literarna dela futuristov in dadaistov, ter avtorske skladbe Leje Jurišić.
Program
: 1. Slišim te, 2. Spirala, 3. Kamen dam na nogo, 4. There is no time to lose (China), 5. Solo body piano, 6. The mothers of invention, 7. Trikotnik, 8. Second movement, Ursonata, 9. Toda pes, 10. Canzione di Maggia, 11. Božanska prednost, 12. Stol in jaz, 13. Ne dovolim! 14. Nebo ima raje noč, 15. RADI OS, Book III (Paradise), 16. Poème a crier à danser (chant 1), 17. The Radical Characters of Verbs and Nouns (to be), 18. Tako piše
CREDITS
Author, Performance and Music: Leja Jurišić; Set design: Petra Veber; Light design: Petra Veber; Music design: Jure Vlahovič; Dramaturgy: Petra Veber, Leja Jurišić; Text recommendation: petra Veber; Text choice: Leja Jurišić, Petra Veber; Text: Giacomo Bella, Pierre Albert-Birot, Kurt Schwitters, Miklavž Komelj, Francis Lodwick, Ronald Johnson; Photography: Petra Veber; Translation: Jezikovna zadruga Soglasnik; Producer: Žiga Predan; Produced by Pekinpah, Leja Jurišić; Coproduced by: Cankarjev dom; Partners: Kino Šiška
SHOWS
LJUBLJANA (Cankarjev dom), 5 February 2022
LJUBLJANA (Cankarjev dom), 6 February 2022
PRESS
EN
SI
READ MORE PRESS︎︎︎