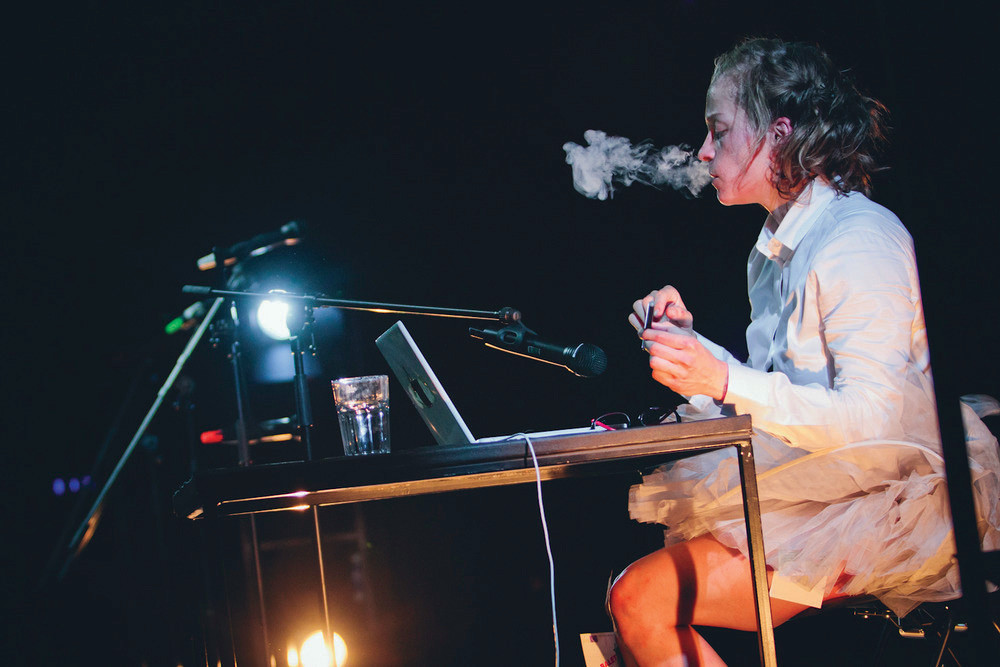 BALLET OF REVOLT

EN
Like a mechanic doll Leja Jurišic moves to the jarring music of the legendary Ballet Mécanique by George Antheil, dancing her way across a map of Europe made out of banknotes. Simultaneously praising and ironizing the strength and possibility of revolt by re-reading Jonas Mekas' radical Anti-Workers Manifesto, this not-mere-choreography emanates the power that is a reflection on the potentiality of activating more than just one's aesthetic receptors when attending a choreographic performance. This piece contains an intensity which convincingly brings to the point the growing anger of the young generation, whose future is being gambled with at the stockmarket casinos of financial speculation. "You worker's don't care about what you do as long as you're paid!" screams Leja Jurišić at the top of her lungs, while German chancellor, Merkel, rides the black bull into the sunset.
SI
Leja Jurišić s svojimi gibi kot nekakšna mehanska lutka sledi frantični glasbeni kompoziciji Georgea Antheila Ballet Mécaniquein v plesu prečka zemljevid Evrope, sestavljen iz bankovcev. S prebiranjem radikalnega Anti-delavskega manifesta Jonasa Mekasa ta več-kot-le-koreografija obenem poveličuje in ironizira silo ter zmožnostupora; iz nje veje potencial, ki ga ob ogledu plesne predstave ponuja sočasna stimulacija več estetskih receptorjev. Ta predstava s svojo intenziteto nazorno poudari naraščajočo jezo mladih generacij, s katerih prihodnostjo na borzah kot v kazinojih kockajo finančni špekulanti. "Delavce vas prav nič ne briga, kaj počnete, dokler vas plačajo!" na ves glas rohni Leja Jurišić, medtem ko nemška kanclerka Angela Merkel na črnem biku jezdi proti sončnemu zahodu.
CREDITS
Created by Leja Jurišić & Petra Veber; Performed by Leja Jurišić; Scenography, Light Design & Costumes by Petra Veber; Music: George Antheil's Ballet Mécanique (1924): Recreated and Conducted by Maurice Peress, Nimbus Records (1992); Producer: Žiga Predan; Produced by Pekinpah; Coproduced by Tanzquartier Wien, Hellerau Dresden, Dansens Hus Stockholm & Kino Šiška Ljubljana; Supported by: Ministry of Cuture Republic of Slovenia, City of Ljubljana - Department of Culture
Photo by David Lotrič
SHOWS

ZACATECAS (Cosmocomico International), 26 May 2015
MARIBOR (Nagib na oder), 21 February 2015
VILLACH (Spectrum), 1 July 2014
DRESDEN (Modul Dance), 27 September 2014
DUSSELDORF (Festival Tanzhaus NRW), 10 September 2014
LJUBLJANA (Plesni Teater Ljubljana), 4 September 2014
VILLACH (Spectrum), 28 June 2013
LJUBLJANA (Gibanica), 23 February 2013
LJUBLJANA (Kino Šiška), 20 November 2012
VIENNA (Tanzquartier), 2 June 2012
VIENNA (Tanzquartier), 1 June 2012
LJUBLJANA (Kino Šiška), 27 May 2012
PRESS
EN
Jurišić is the first of her dance generation, who is weaving the theme of revolution into choreography, and she does this in a provocatively modernistic manner for our late postmodern times.
Helmut Ploebst, Der Standard, Austria 2012

A terrific Slovenian piece ... a frenetic dance coupled with a critical discourse on the very idea of a single Europe.

Rodolfo Obregón, Teatromexicano.com.mx, Mexico 2015
SI
[Leja Jurišić] je prva v svoji plesni generaciji, ki temo upora eksplicitno vpleta v koreografijo, to pa naredi na provokativno modernističen način glede na pozni postmodernizem današnjega časa.

Helmut Ploebst, DER STANDARD, 3. junij 2012, Dunaj, Avstrija
Mednarodni festival Cosmicomico sta oprli dve predstavi, ki prevprašujeta svoje razmerje s klasično evropsko kulturo: španska Comissura Patricie Pardo in, predvsem, Balet upora, odlično delo iz Slovenije. Predstavi spreobračata kulturne oblike (v prvim primeru gre za odvratni variete, v drugem pa za ponoreli ples, ki ga spremlja kitični diskurz o sami ideji enotne Evrope), da bi zavzeli kritičen odnos do družbenega konteksta, v katerem nastajata.
Rodolfo Obregón: Festival Cosmicómico de Teatro Alternativo Internacional, Teatro Mexicano, 23. junij 2015, Mehika
Prebojno, predvsem pa kar se le da subverzivno.
Zala Dobovšek, DELO, 2. junij 2012
READ MORE PRESS︎︎︎