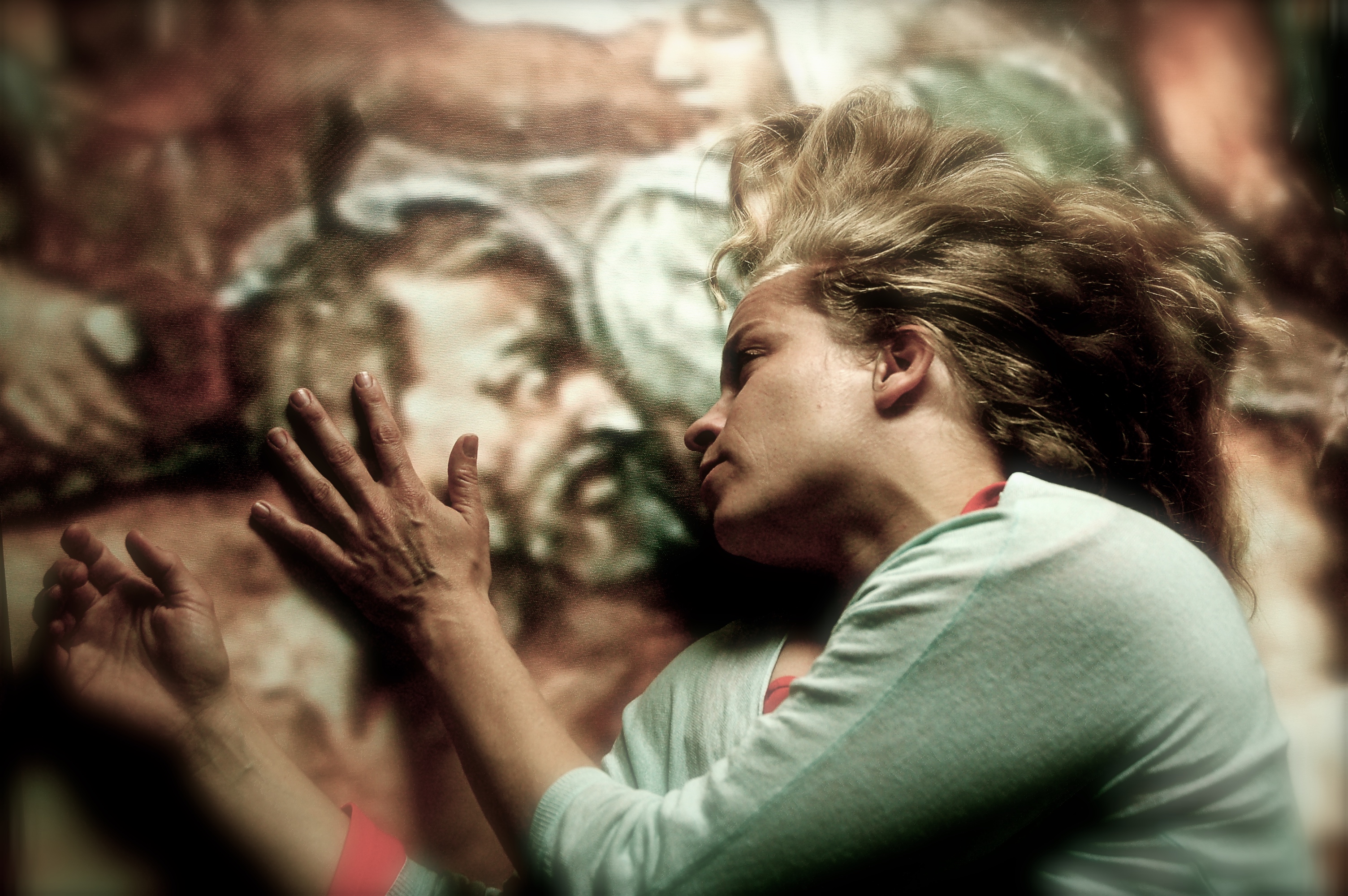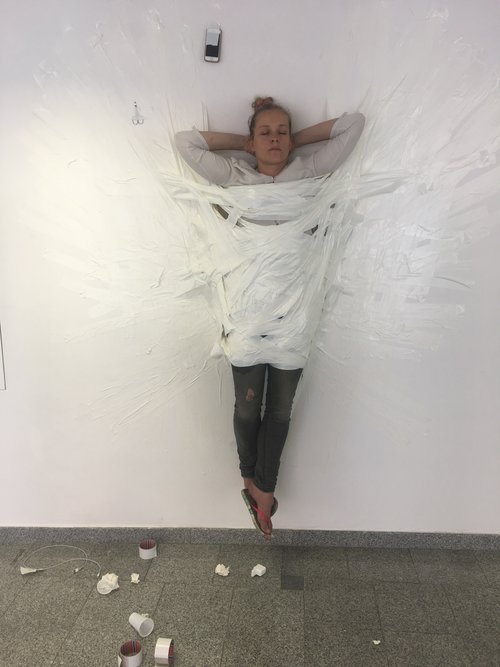 THE MOST BEAUTIFUL MOMENTS ARE THE SHORTEST
EN
Yesterday, freedom was one step away from extinction. Today, we restrain ourselves, silence ourselves, we wait. We wait for them to put their words into our mouths, they are building their new images of a plurality of votes out of us, only to re-pin them – onto themselves. We – are numbed. We hold onto the first branch, the lowest. This is followed by new fixations of ourselves, aversions of ourselves. We do not kill ourselves loudly; we seek our nominal sense in silence, in darkness. The starting points for the installation Without Words are the poem by Jure Detela Birth as Criterion and Perfect Day, a performance by Italian artist Maurizio Catellan. Dancer Leja Jurišić is a hanging body in her installation that has been forcibly deprived of subjectivation, which is why it is fixed: "The most beautiful moments are the shortest; they appear just after pain comes and just before pain comes again. They are mine and I will not forsake them."
SI
So časi za ples in ni časov za ples. Ni časa. Ni glasu. Ni besed. Včeraj je bila svoboda en korak stran od izumrtja. Danes se samo-umirjamo, samo-odtegujemo, samo-utišujemo, čakamo. Čakamo, da nam svoje besede polagajo v naša usta in si iz nas gradijo svoje nove podobe mnošta glasov, ki jih ponovno pripenjajo – nase. Mi – otrpnemo. Se oprimemo prve veje, najnižje. Sledijo nove samo-fiksacije, samo-odvrnitve, samo-stabilizacije. Mi se ne pobijami glasno; svoj minimalni smisel iščemo v sebi, v tišini, v temi. Izhodišči za instalacijo Brez besed sta pesem Jureta Detele Kriterij rojstva, ki govori "o zmotnosti vseh dosedanjih polarizacij na žive in mrtve" (Miklavž Komelj, "Man che trama") in performans italijanskega umetnika Maurizzia Catellana [A perfect Day, 1991], v katerem je v milanski galeriji na steno "prilepil" svojega galerista De Carla, ki je po dveh urah "visenja" omedlel. Z rešilcem so ga odpeljali na urgenco. Plesalka Leja Jurišić je v svoji instalcaiji "viseče telo", ki mu je bila nasilno odvzeta subjektivizacija; zato je fiksirano.
CREDITS
Created by Leja Jurišić in collaboration with Petra Veber; Performed by Leja Jurišić; Commissioned by Yasmin Martin Vodopivec; Coproduced by Leja Jurišič, MGLC & Pekinpah; Premiered at 32nd Biennial of Graphic Arts: Birth as Criterion, MGLC, Ljubljana
Photo by Petra Veber
SHOWS

LJUBLJANA (Ministry of Culture – Openning of 32nd Biennial of Graphic Arts: Birth as Criterion), 16 June 2017
LJUBLJANA (512), 29 December 2018
PRESS
EN
The dramatic moment when Leja Jurišić kicked away the chair, leaving herself, angelic-like, taped to the wall. With this work she accomplished an appropriation-transgression of Maurizio Cattelan's "A Perfect Day" (1999) piece by performing it as an anti-masochistic escape act; arduously working her way free of the self-imposed tape trap.
Joseph Nechvatal, Hyperallergic, 30 August 2017

SI
»Dramatični moment ko Leja Jurišić brcne stran stol v njenem delu "Najlepši trenutki so najkrajši" (2017), prezentaciji v stavbi Ministrstva za kulturo, kjer pusti sebe, angelsko, prilepljeno na steno. S tem delom je dosegla odlično transgresijo dela "A Perfect Day" (1999) Maurizia Cattelana, ki ga uprizori preko performansa kot anti-mazohističnega pobeglega akta; vztrajno se osvobaja od njene samo-zadane-pasti.«
Joseph Nechvatal, Leja Jurišić: Najlepši trenutki so najkrajši, A Slovenian Biennial that Breaks the Mold, 30. avgust 2017
READ MORE PRESS︎︎︎